Hubert Kiecol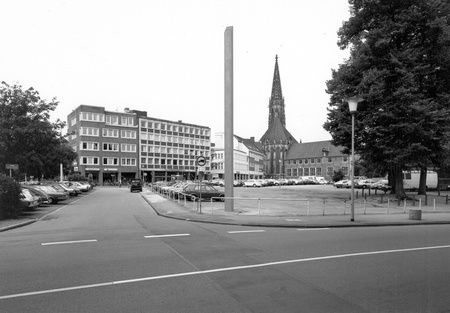 Hohe Treppe [High Stairs]
1987
Sculpture
Concrete, 1120 x 50 x 40 cm
Location
Corner of Mauritzstraße / Asche, close to Bült (now the corner of the site of Münster's city library).
Temporary installation for the duration of the exhibition
Hubert Kiecol
* 1950 in Bremen, Germany
lives and works in Cologne and Düsseldorf, Germany
For Skulptur Projekte in Münster 1987 Hubert Kiecol created a freestanding, minimalist, abstract pillar in concrete, just 50 cm wide but more than 11 metres high. The distinctive feature of this pillar was its upper end, which had the shape of a miniaturised set of four stairs. The pillar was placed on the site where now Münster's city library is located and formed a direct visual axis to the nearby St. Lamberti church. The towering sculpture drew the viewer's gaze upwards to the sky. Particularly in relation to the neighbouring church, the stele was reminiscent of the Christian motif of Jacob's Ladder.
Abandoning functionality, Kiecol reduced the motif of the staircase to its purely geometric properties and basic elementary form.1 With their compressed volume and distorted proportions Kiecol's objects – mostly familiar things such as stairs, towers and houses – can also be read in the context of their respective exhibition locations. Thus with his towering, stele-like staircase in Münster, Kiecol created not only a formal but also a thematic counterpart to St. Lamberti church.
Ronja Primke
1 Eva Schmidt, "Mit dem Blick durch ein gedachtes Teleskop. Hubert Kiecols Skulpturen und Zeichnungen". In: Westfälischer Kunstverein / Westfälisches Landesmuseum (Hg.), Hubert Kiecol, Ausst.-Kat: Westfälischer Kunstverein / Westfälisches Landesmuseum, Münster 1990, 35–37.
Location
Still existing / Public Collection
Removed
In the museum