Nam June Paik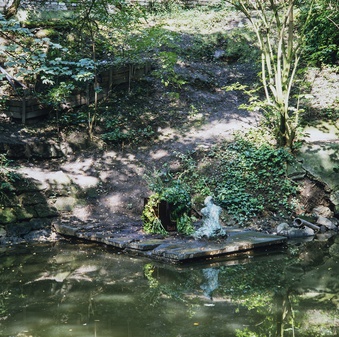 TV-Buddha für Enten [TV Buddha for Ducks]
1987
Outdoor installation
Buddha figure cast in bronze (1986), 63 x 51 x 37 cm, television set (Admiral), Bakelite, plexiglass, 46.5 x 45.5 x 51.5 cm
Location
The Münstersche Aa river, between Promenade at Hallenbad Mitte, Badestrasse 8, and the head office of the former WestLB, today the Westdeutsche Landesbausparkasse, Himmelreichallee 40.
Temporary installation for the duration of Skulptur Projekte in Münster 1987
Nam June Paik
* 1932 in Seoul, South Korea
† 2006 in Miami Beach, USA
In 1987, Nam June Paik installed his project TV-Buddha für Enten (TV Buddha for Ducks) in the riverbed of the Münstersche Aa. To do so, he set a roughly modelled bronze Buddha on a flat wooded construction, raised enough so that it stood just above the stream's water level. Without arms, with a pointed cap on its head and a cigarette between its lips, the figure was facing a 'cannibalised' TV set.
Developed spontaneously in 1974 as a stopgap solution for a gallery exhibition in New York, TV Buddha became an element Paik used on several occasions. Originally Paik placed an antique Buddha statue opposite its own video image as it was filmed in real time by a camera and shown on a television.1 Audience response to this work was enthusiastic and art critics interpreted it as a metaphor for the antagonistic relationship between Western technology and Far Eastern notions of transcendence.2
All later versions of TV Buddha continued the principle of improvisation in the work, yet Paik constantly revised this (self-)quotation in his work concept. For TV-Buddha für Enten in Münster the artist worked with a recast of a Buddha figure he had modelled a year earlier and had first exhibited along with six further statues in San Diego.3 In Münster the ducks created a poetic and humorous situation by paddling around the meditating Buddha and quacking.4
Daniel Friedt
1 The Galería Bonino organised an exhibition of work by Paik under the title T.V. Sea. Electronic Art IV (15.1.–2.2.1974). Cf. also Nam June Paik. Videa 'n' Videology, 1953–1973, exhib. cat. Everson Museum of Art, Syracuse, and Galería Bonino, New York, Syracuse, 1974.
2 On Paik's use of the Buddha statue, cf. Hans Belting, "Buddhas Spiegel – Meine Begegnung mit Nam June Paik in Japan", in: op. cit.; and Lydia Haustein (ed.), Das Erbe der Bilder. Kunst und moderne Medien in den Kulturen der Welt, Munich, 1998, pp. 170–180. On Paik's work in Münster, cf. Edith Decker, "TV-Buddha für Enten (Hommage an Al Robbins), in: Klaus Bußmann and Kasper König (eds.), Skulptur Projekte in Münster 1987, exhib. cat. Westfalisches Landesmuseum für Kunst und Kulturgeschichte, Münster, Cologne, 1987, pp. 211–214.
3 Nam June Paik, Something Pacific, 1986, first outdoor exhibition, San Diego, University of California, Stuart Collection; also cf. Decker, 1987, p. 212.
4 Florian Waldvogel, "The Snowman. Interview with Kasper König"., in: Art as a Public Issue, 01.01.2007, p. 7.
Location
Still existing / Public Collection
Removed
In the museum
Other Participation
This artist also participated in: 1997