Raymond Hains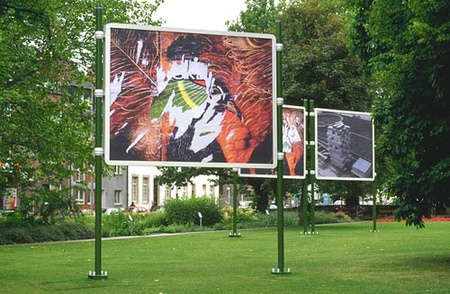 Untitled
1997
Installation in two parts
Four advertising billboards (made by Dauphin O.T.A.), each 300 x 400 cm
Location
Along Münzstraße near the Buddenturm and an exhibition collage about Münster in the historic section of the Westfälisches Landesmuseum für Kunst und Kulturgeschichte, 1st floor.
Installation for the duration of Skulptur. Projekte in Münster 1997
Raymond Hains
* 1926 in Saint-Brieuc, France
† 2005 in Paris, France
The artist Raymond Hains, known for his ripped poster collages in 1960s Paris, developed an installation for Skulptur. Projekte in Münster 1997 assembled from various associatively related materials. He found the work's different components, such as posters and building materials, on site. He broadened their associative context with references to the history of the city, to forms of philosophical and art historical knowledge, as well as to his own artistic biography.1Hains took things he found or made himself, from the present or the past, objective and subjective, and interwove them into personal arrangements in two different locations.2
For the outdoor project in the vicinity of the Buddenturm the artist set up four freestanding, two-sided advertising billboards. Hains stuck posters on all eight surfaces with motifs from around the city, such as the Anabaptist cages he had photographed on his walks through Münster. In the Westfälische Landesmuseum für Kunst und Kulturgeschichtehis installation transposed a number of everyday urban phenomena into an artistic setting. He was particularly fascinated by the random, unpremeditated piles of construction materials in the historic section of the museum which he then presented as "sculptures de trottoir" (pavement sculptures) in conjunction with his own photographic works and torn posters.3
Beate Pittnauer
1 Concerning his specific approach in preparing his own exhibitions Hains said: "I often proceed from the place and the names associated with it; I am interested in the subterranean relationships that exist between things and places." In: Klaus Bußmann, Kasper König and Florian Matzner (eds.), Skulptur. Projekte in Münster 1997, exhib. cat. Westfälisches Landesmuseum für Kunst und Kulturgeschichte, Münster, Ostfildern-Ruit, 1997, p. 204.
2 Important precursors of his work in Münster were his exhibitions in Portikus Frankfurt (1995) and the Fondation Cartier pour l'art contemporain in Paris (1994/95). For Hains, each new presentation of his work also meant continuing to write his own artistic and exhibition biography.
3 Hains 1997, p. 204.
Location
Still existing / Public Collection
Removed
In the museum