Nam June Paik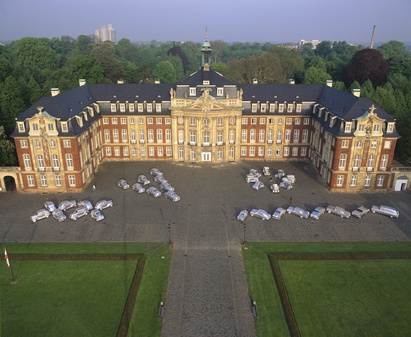 32 Cars for the 20th Century: Play Mozart's Requiem Quietly
1997
Installation
32 cars varnished silver, televisions, hi-fi system
Location
Schlossplatz 2, University of Münster, forecourt of the Münster Schloss. Installation and performance for the duration of the exhibition
Nam June Paik
* 1932 in Seoul, South Korea
† 2006 in Miami Beach, Florida, USA
In 1997, ten years after creating TV-Buddha für Enten (TV Buddha for Ducks), the Korean artist Nam June Paik installed 32 silver-varnished vintage cars on the forecourt of Münster's city palace. In the period between sunset and close to midnight Wolfgang Amadeus Mozart's final composition Requiem was to be played – so long, in fact, "until people complain about it",1 as Paik's instructions stated. With the vehicle bodies arranged in groups of eight it was possible to identify different geometric forms – a triangle, a circle, a parallelogram and a line. The artist's choice of vintage cars dating back to the period between 1920 and 1950 was a reference to the history of technology. Besides addressing the cult of the car and the attendant consumerist ideology, Nam June Paik's project was concerned with mediatisation, which he saw as a key aspect of the 20th century. Accordingly, looking in through the windscreens of the unroadworthy cars one caught sight of heaps of discarded televisions. This was Paik's way of announcing the end of the video age and, simultaneously, of his preferred artistic medium.
Since Münster's Schloss was the last palace to be built in Germany before the French Revolution, this constellation reflected the transition from aristocratic to civic, democratic society. Confronting this historic backdrop with the innovative forces of the car and media culture, which stand for the shift from industrial society to the information age, Paik highlighted the upheavals of the twentieth century.2
Ronja Primke
1 Klaus Bußmann, Kasper König and Florian Matzner (eds.), Sculpture. Projects in Münster 1997, exhib. cat. Westfälisches Landesmuseum für Kunst und Kulturgeschichte, Münster, Ostfildern-Ruit 1997, p. 305.
2 Ulrike Groos and Florian Matzner, "A P.S. to N.J.P.", in: ibid., p. 309.
Location
Still existing / Public Collection
Removed
In the museum
Other Participation
This artist also participated in: 1987