Tobias Rehberger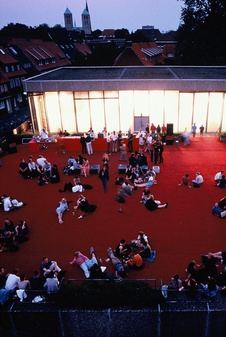 Günter's (wiederbeleuchtet) [Günter's re-lit)]
1997
Installation/intervention
Outdoor design for a roof terrace: red synthetic carpet, red-varnished furniture, windows covered in white transparent paper and illuminated from the inside
Location
Lecture hall with roof terrace, Schlossplatz 46 (until 2012 still known as Hindenburgplatz), entrance from Bäckergasse.
Temporary installation for the duration of Skulptur. Projekte in Münster 1997
Tobias Rehberger
* 1966 in Esslingen, Germany
lives and works in Frankfurt am Main, Germany
For Skulptur. Projekte in Münster 1997 Tobias Rehberger identified certain sites in Münster that he was interested in redefining by means of artistic intervention. His idea was to transform places that were barely used into vibrant social venues. Each of his three proposals included a temporary open-air bar.1 The artist was able to implement his final design for the roof terrace on top of the lecture hall at Schlossplatz 46.
Here he covered the concrete floor with red synthetic carpet and constructed a red-varnished counter that in the evenings doubled up as a DJ desk and a bar. The rooms of the building were brightly lit on the inside so that the goings-on on the terrace were bathed in atmospheric light radiating from the broad glazed front, especially on the upper floor.
Playing with form, function, art and design Rehberger reinterpreted a publicly known but unused space. Ultimately, his idea took shape thanks to the animated participation of people who visited Günter's and brought the place alive, who perceived the roof terrace with its view of the palace and gave it visibility.
Daniel Friedt
1 Cf. three project proposals by Rehberger in: Klaus Bußmann, Kasper König and Florian Matzner (eds.), Skulptur. Projekte in Münster 1997, exhib. cat. Westfälisches Landesmuseum für Kunst und Kulturgeschichte, Münster, Ostfildern-Ruit, 1997, pp. 336–341.
Location
Still existing / Public Collection
Removed
In the museum