Mike Kelley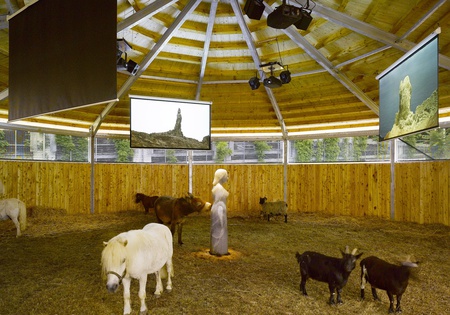 Petting Zoo
2007
Installation with a wooden pavilion and a petting zoo
Location
Courtyard in Von-Steuben-Straße 4–6.
Temporary installation
Mike Kelley
* 1954 in Detroit, Michigan, USA
† 2012 in Los Angeles, California, USA
The Old Testament story about Lot from the Book of Genesis tells of the only virtuous inhabitant of Sodom, whose wife on her flight from the doomed city defied God's express warning not to look back. Her disobedience is instantly punished: Lot's wife is turned into a pillar of salt.
Based on a memory of his children's Bible Mike Kelley commissioned sculptors at the famous Wieliczka salt mine in Krakow to carve a life-size figure of the woman turned into a pillar. He then placed it in a pavilion that served as a stable with a surrounding corral whose animal residents were free to roam about the complex, inside and out. The animals occasionally licked the salt pillar, causing it to change shape in the course of the exhibition. Three videos showed pillar-like rock formations known as "Lot's wife" in Africa, Asia and Australia. The references to socially anchored taboos and phobias characteristic of Kelley's work emerged here against the harmless backdrop of a petting zoo. The story of the "sinfulness of Sodom and Gomorrha"1 can also be taken to apply to the city of Münster where one might likewise encounter social chasms, sinister urges and hidden desires.
Elena Winkler
1 Mike Kelley, "Petting Zoo", in: Brigitte Franzen, Kasper König and Carina Plath (eds.), sculpture projects muenster 07, exhib. cat. LWL-Landesmuseum für Kunst und Kulturgeschichte, Münster, Cologne, 2007, p. 127.
Location
Still existing / Public Collection
Removed
In the museum