Gustav Metzger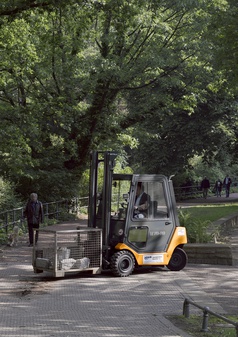 Aequivalenz – Shattered Stones
2007
Performative installation with granite blocks for 107 days at 107 sites throughout Münster.
Documentation in the foyer of the LWL-Landesmuseum für Kunst und Kulturgeschichte, Münster, and at www.aequivalenz.com
Gustav Metzger
* 1926 in Nuremberg, Germany
† 2017 in London, Great Britain
On each of the 107 days of the exhibition skulptur projekte münster 07 Gustav Metzger had a forklift truck transport a number of stones to a different spot in the city. The result was a continually growing sculpture. For this, Gustav Metzger specified the sites, the number and arrangements of the stones. When the exhibition finished, the subtle and occasionally inconspicuous constellations of stones in corners and niches vanished from the urban setting.
Each day a computer programme selected the next destination for the forklift, which then transported the stones as planned to the specified place, where they were photographed. The progress of the project could be followed at all times either by visiting a presentation in the foyer of the Landesmuseum or consulting the website www.aequivalenz.com. In addition, an exhibition held at the Westfälischer Kunstverein presented models of Metzger's work Autodestruktive Monumente (Self-destructive monuments).
As a pioneer of artistic inquiry into processes of destruction, decomposition and deconstruction, Metzger used this transformative aspect for his own aesthetic practice.1 Adopting a largely transitory, fragile and minimal formal language, it defies notions of a representative monument or manifestations of remembrance culture. With Aequivalenz – Shattered Stones Metzger suggested a connection between Münster and the English city of Coventry, which was almost entirely razed by German air raids in 1940.2 Metzger's idea also included staging a parallel action in Coventry based on the same principle. In 2015 the Herbert Art Gallery in Coventry presented a work titled Aequivalenz. Shattered Stones, Coventry, which made reference to his 2007 project.
Anna-Lena Treese
1 Cf. also Brigitte Franzen, Kasper König and Carina Plath (eds.), sculpture projects muenster 07, exhib. cat. LWL-Landesmuseum für Kunst und Kulturgeschichte, Münster, Cologne, 2007, p. 150.
2 This resulted in increased retaliatory air raids by the British.
Location
Still existing / Public Collection
Removed
In the museum