Rosemarie Trockel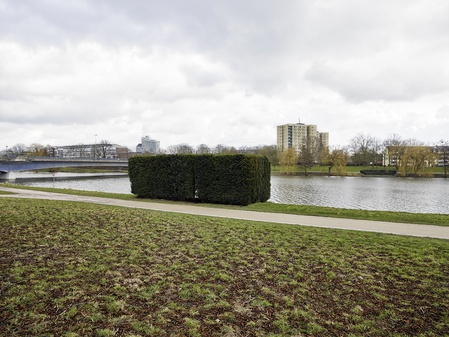 Less Sauvage than Others
2006/07
Yew hedges
approx. 4.5 x 7 x 3.5 m
Location
North-western shore of the Aasee, adjacent to Torminbrücke [Tormin Bridge], permanent installation (planted in December 2006)
Owner
LWL-Museum für Kunst und Kultur, Münster
Acquired with the financial support of Jäckering Mühlen- und Nährmittelwerke GmbH, Hamm.
Rosemarie Trockel
* 1952 in Schwerte, Germany
lives in Cologne and works in Düsseldorf, Germany
Since skulptur projekte münster 07 two dense, four and a half metre high hedges have lined the Aasee shore. Rosemarie Trockel had the yew bushes planted along the promenade half a year before the exhibition, so that the hedge would not only be robust enough but also of an appropriate size for the envisaged topiary. The artist aligned the four sides of the hedge, cut in two blocks, slightly asymmetrically, and had the surfaces of the yew cuboids clipped to incline towards their inner edges, rather than being cut horizontally. A narrow vertically tapering passageway between the blocks of yew enables a view of the high-rise buildings on the other side of the lake. It is just wide enough to allow a person to step sideways through the sculpture.
Due both to its form and location along the Aasee shore, the work is able to generate a formal correspondence to the high-rise buildings opposite, the dark green of the yew relating to the weathering of the buildings' façades. The work's height and thickness are reminiscent of sculptures of wood or stone, whilst the topiary work on the yew hedge bears comparison to traditional sculptural techniques.
Similarly to Trockel's series of works of the same name, Less Sauvage than Others suggests stasis, in contrast to the natural growth of plants.1 Despite the dense and seemingly rigid forms of the yew cuboids, the hedges nevertheless remain a renewable material. The sculpture undergoes continual metamorphosis, proliferating branches imperceptibly changing the form over the years, even though the precise topiary repeatedly hinders uncontrolled growth of the yew hedge.2

Ronja Primke
1 Lilian Haberer, Rosemarie Trockel – Less Sauvage than Others, in: Brigitte Franzen, Kasper König, and Carina Plath (eds.), skulptur projekte münster 07, exhib. cat.: LWL-Landesmuseum für Kunst und Kulturgeschichte, Münster, Cologne, 2007, 245.
2 Thanks to a private patron the work is trimmed regularly.
Location
Still existing / Public Collection
Removed
In the museum