Richard Tuttle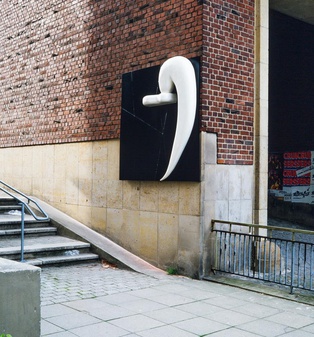 Art and Music [Kunst und Musik]
1987
Two-part sculpture
Art and Music I: wooden elements painted white, 200 x 73 x 75 cm
Art and Music II: steel panels painted black with wooden elements painted white, 200 x 200 x 30 cm
Location
Vehicle entrance and steps between the building at Domplatz 23 and Fürstenberghaus at Domplatz 20–22, permanent installation (not on display in 2016 due to construction work)
Owner
City of Münster
Richard Tuttle
* 1941 in Rahway, USA
lives and works in New York, Abiquiú and Mount Desert, USA
"I would like to make two objects, based on the same form. The first shows the form from the front, and the second from the side. The first is to be placed in a corner, the second attached to two metal panels that have been cut, welded and lacquered black."1 This is how Richard Tuttle described his work Art and Music, which he installed in a rather concealed position on Domplatz [the cathedral square]. Tuttle attached identical wooden sculptures, reminiscent in form to a comma or apostrophe, to the two sides of a brickwork wall. Art and Music I hangs at a right angle to the wall, in a corner just behind the vehicle entrance to the Fürstenberghaus towards Siegelkammer. Art and Music II is located at precisely the same height on the other side of the wall, on the steps that run alongside the entrance. Even though the latter, which combines the wooden elements with steel panels, is hung somewhat away from Domplatz, it is more visible, due to its location at the bottom of the steps. The wall both separates and combines the two works, which are reminiscent of a bass clef or the outer shape of an ear. Tuttle himself remained somewhat unclear about how the objects related to art and music.
The work is vexing in its inconspicuous siting on the building, which is somewhat unusual for art in public spaces. The post-minimalist artist's choice of location reflects his preference for his works to unobtrusively occupy the margins of a space. Consequently he has sometimes shown his work on the skirting boards of exhibition spaces, in order to demand both an open mind and a willingness to engage with aesthetic experiences. Similarly, the unusual hanging of Art and Music would seem to be a call to discover not only Münster but ones own surroundings more attentively. Urban spaces are full of visual and acoustic impressions, whether posters and graffiti on walls, or bells and musicians, or simply passers-by in the street. Tuttle's Art and Music is sited in such a mundane urban environment.

Daniel Friedt
1 Richard Tuttle. In: Klaus Bußmann and Kaspar König (eds.), Skulptur Projekte in Münster 1987, exhib. cat.: Westfälisches Landesmuseum für Kunst und Kulturgeschichte, Münster, Cologne 1987, 253–256, here 254.
Location
Still existing / Public Collection
Removed
In the museum