Ettore Spalletti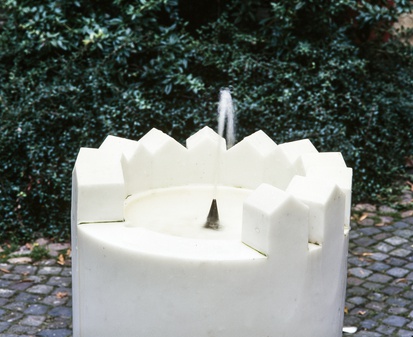 Fonte [Fountain]
1986
Fountain with model sculpture
White marble, metal pipe
Height: 120 cm; diameter: 40 cm
Location
Square in front of the building at Martinistraße 2, set between Hörsterstraße, Stiftsherrenstraße and Martinistraße.
Temporary installation for the duration of Skulptur Projekte in Münster 1987; removed in 1988
In 1986 Spalletti's fountain was part of the exhibition Sonsbeek '86 in Arnheim (NL).
Ettore Spalletti
* 1940 in Cappelle sul Tavo, Italy
† 2019 in Cappelle sul Tavo, Italy
On a small square paved with dark basalt stone in front of a house built in 1763 Ettore Spalletti erected a fountain made of white marble. The fountain's slender conical stem brought to mind Spalletti's abstract vase-forms from previous years. Looking more closely, one could see that around the top rim of the column the artist had built a model architectural stage-set of a fictional piazza. Eleven simplified and tightly packed gabled houses encircled a round hollow with a miniature fountain bubbling at its centre.
Public fountains are among the most important utility objects in urban infrastructure which through artistic design can acquire the character of monuments. Spalletti's fountain followed this cultural development in two ways: on the one hand, the artist enhanced this location in the city centre with an object that resembled an ornamental fountain or a drinking water fountain. On the other, he created a model-sized architectural fantasy of an idealised town square. Its abstract formal language clearly distinguished the fountain from the surrounding historical buildings as a work of contemporary art. Yet as a model his reduced forms offered possibilities of generic representation since the miniature paraphrased a timeless concept of open spaces and fountains in built-up areas, be it a piazza in Italy or a square in Westphalia.
Daniel Friedt
Location
Still existing / Public Collection
Removed
In the museum