Carl Andre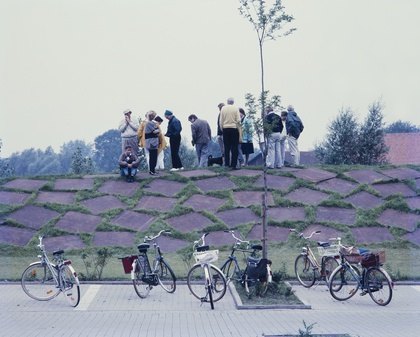 Gras und Stahl, 4. Juni 87 [Grass and Steel, 4th June 87]
1987
Floor sculpture
207 steel panels, each 100 x 100 x 0.5 cm
Loaned by Konrad Fischer Galerie, Düsseldorf
Location
A meadow on the corner of Busso-Peus-Straße / Gievenbecker Weg. Temporary installation for the duration of Skulptur Projekte in Münster 1987
Owner
Property of the artist / courtesy of Konrad Fischer Galerie
Carl Andre
* 1935 in Quincy, Massachusetts, USA
lives and works in New York, USA
Grass and steel are a combination of materials Carl Andre had previously employed in Münster in 1977. Ten years later he began by proposing a project for an overgrown embankment between Münster and Gievenbeck. It was a place where the city had once scheduled a section of the bypass. Doing without prefabricated materials, Andre planned to develop an installation with objects found on the site using simple tools.
But the artist then dismissed the idea. Instead, he worked on the selected section of meadow beside the Busso-Peus-Straße, once again with rusting steel panels that he had previously used in an earlier art action in the Konrad Fischer Galerie in Düsseldorf. These square sheets were distributed loosely over the uneven ground. Man-made objects and nature formed a coherent whole; both were exposed to the effects of weather, time and overgrowth. Carl Andre no longer simply placed his art on the ground; he turned the ground itself into an essential part of his sculpture. In contrast to the walkway motif he created in 1977, likewise with rusting steel sheets, here he established a spatial marker for the locality, which due to its history was "no longer a path […] and not yet a road"1.
Daniel Friedt
1 Georg Jappe, Skulptur-Projekte in Münster 1987. Rundgang, Münster, 1987, p. 135.
Location
Still existing / Public Collection
Removed
In the museum
Other Participation
This artist also participated in: 1977