Thomas Hirschhorn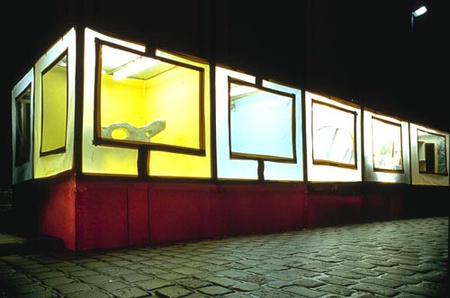 Skulptur-Sortier-Station [Sculpture Sorting Station]
1997
Installation made of roof battens, plastic, wood, plexiglas, neon tubes, cardboard, spray paint, silver and gold foil, four tube TV sets
Dimensions: 250 x 800 x 500 cm
A non-walk-through construction subdivided into ten "stalls" containing the following objects:
Stall 1: Symbols and logos cut out of cardboard (Mercedes logo, VW logo, peace symbol, Chanel logo)
Stall 2: Three trophy-shaped cardboard cut-outs
Stall 3: Video about the artist Otto Freundlich featuring two bronze sculptures from the Musée Tavet-Delacour in Pontoise near Paris
Stall 4: Replica of a lost sculpture by the artist Rudolf Haizmann
Stall 5: Video showing attempts to construct a monument using empty packets of Marlboro cigarettes that keeps collapsing
Stall 6: The work Robert Walser Tränen (Robert Walser Tears) by Thomas Hirschhorn and two videos of a woman slowly tipping her head upwards
Stall 7: Stalagmites and stalactites made out tinfoil, hanging in front of a panel on the theme of "spoons for collectors"
Stall 8: Postcards and posters mounted on wood with various motifs on the theme of "sculpture"
Stall 9: Two fictional awards for the authors Robert Walser and Emmanuel Bove
Stall 10: Architectural maquette made of wood, cardboard, polystyrene with a small maquette of the Kunsthalle containing four works by Thomas Hirschhorn
Location
Katthagen / corner of Rosenstraße, beside the row of bottle banks.
Temporary installation for the duration of Skulptur. Projekte in Münster 1997
Thomas Hirschhorn
* 1957 in Bern, Switzerland
lives and works in Paris, France
Thomas Hirschhorn relates his works mostly to social and political issues with historical themes. To make them the artist uses economical building and packaging materials such as plywood, cardboard, adhesive tape, plastic sheeting and tinfoil, which he supplements with images and texts found in newspapers and philosophical texts by various authors and philosophers.1
For his work Skulptur-Sortier-Station as part of Skulptur. Projekte in Münster 1997 Hirschhorn designed a free-standing construction with roof battens, plastic, wood, plexiglass, neon tubes and cardboard. It could not be entered but was visible from the outside on all sides like a shop window. The interior was subdivided into ten different "stalls" displaying objects and videos, several of which Hirschhorn created specifically for this installation.2 Some addressed economic aspects critical of consumerism; others paid homage to the authors Robert Walser and Emmanuel Bove or to the artists Rudolf Haizmann and Otto Freundlich. Freundlich's bronze sculpture Der Aufstieg (Ascent) is located on Maria-Euthmyia-Platz in Münster.
This sorting or recycling station for art and philosophy was installed on a spot alongside a row of bottle banks. Thus, the themes addressed in each of the ten "stalls" raised questions as to the time dimension, respective relevance and sustainability of the exhibited artefacts.
Daniel Friedt
1 Cf. anon., "Thomas Hirschhorn". See artist's homepage: www.thomashirschhorn.ch/home (last consulted: 2.5.2017)
2 Cf. Thomas Hirschhorn, "Skulptur-Sortier-Station", in: Klaus Bußmann, Kasper König and Florian Matzner (eds.), Skulptur. Projekte in Münster 1997, exhib. cat. Westfälisches Landesmuseum für Kunst und Kulturgeschichte, Münster, Ostfildern-Ruit, 1997, p. 210–217.
Location
Still existing / Public Collection
Removed
In the museum