Diana Thater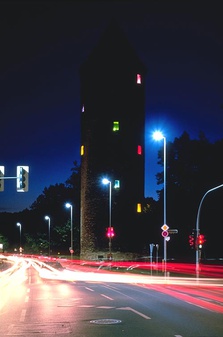 Broken Circle
1997
Video installation with 6 video projectors, 6 DVD players, 6 DVDs and colour foil
Film length: ca. 30 minutes
Location
Buddenturm, Münzstraße 20.
Temporary installation for the duration of Skulptur. Projekte in Münster 1997
Owner
Museum of Contemporary Art Siegen, on permanent loan from the Peter Paul Rubens Foundation
Diana Thater
* 1962 in San Francisco, USA
lives and works in Los Angeles, USA
For Skulptur. Projekte in Münster 1997 Diana Thater conceived a video installation which she presented in the Buddenturm, the oldest remaining tower from the city's medieval walled fortifications. On the inner walls of all four floors of the tower Thater projected a modified version of a film. It was a video work she had shot in 1997 for her project Broken Circle as a 360° panorama film on the Ugland Ranch in California. What at first looked like a documentary about a herd of ostensibly wild horses in open nature was in fact staged footage featuring horses that were trained to play in films and shows. Thater modified the scenes by filtering the silent movie she had shot in a round format with six cameras into the colours red, green, blue, cyan, magenta and yellow. As a result, the horses were changing colour whenever they were filmed in slow motion.1
The piece was initially inspired by the wild horses she witnessed at Mervelder Bruch near Dülmen.2 Based on what she saw, Thater developed the idea for the film, although the motif of the galloping horses was also influenced by typical scenes from Westerns and Samurai films from the 1950s and 1960s by directors like John Ford or Akira Kurosawa.3
The Buddenturm did not conform to classical venues for screening films such as the cinema or the family living room, since in order to see Thater's video installation viewers had to climb the wooden staircase at the centre of the tower floor by floor. Showing on each storey were colour-modified excerpts of the original panoramic film. By splitting up the all-round panorama and installing sections on several storeys it was impossible for the viewers to experience the film as a complete entity. The artist's choice of title for the work was ultimately prompted by this manipulation of the film material.
Daniel Friedt
1 Cf. Diana Thater, "Broken Circle", in: Klaus Bußmann, Kasper König and Florian Matzner (eds.), Skulptur. Projekte in Münster 1997, exhib. cat. Westfälisches Landesmuseum für Kunst und Kulturgeschichte, Münster, Ostfildern-Ruit, 1997, pp. 406–411.
2 Ibid.
3 Dirk Müller, "Diana Thater, Broken Circle, 1997/2001", in: Museum der Gegenwartskunst, Siegen (ed.), Kunstwerk des Monats. Juni 2010, Siegen, 2010.
Location
Still existing / Public Collection
Removed
In the museum