Rachel Whiteread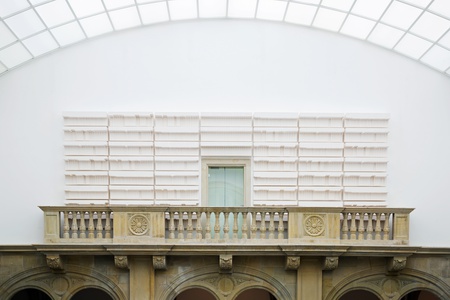 Untitled (Books)
1997
Steel construction, plaster, polyurethane foam
316 x 870 x 31.5 cm
Location
Balcony on the 2nd floor of the atrium in the old building of the LWL-Museum für Kunst und Kultur, Münster, permanent installation
Owner
LWL-Museum für Kunst und Kultur, Münster
Rachel Whiteread
* 1963 in London, United Kingdom
lives and works in London
The British artist Rachel Whiteread has been working with plaster, wax, and concrete casts of everyday objects since the late 1980s. These are frequently derived from domestic life, and involving such issues as materiality. This approach was most obviously demonstrated in the work House (1993), for which she made a concrete cast from a typical Victorian terraced house in a working class district in London's East End.
The work Untitled (Books), created for Skulptur. Projekte in Münster 1997, unobtrusively blends with the architecture of the atrium in the old building (1908) of the LWL-Museum für Kunst und Kultur. It is located on an inaccessible balcony, the former Kaiserempore [Kaiser's gallery], on the second floor, where the artist installed a wall of book shelving cast in plaster. The work is reminiscent of the Judenplatz Holocaust Memorial (1995/2000), conceived by Whiteread for the so-called Jewish square in Vienna; a monumental concrete cuboid, whose outer sides likewise feature casts of rows of books.
The door leading to the balcony is surrounded by seven white book shelves, the width of the single units corresponding to the width of the door. What is visible, however, is not the books themselves, but the negative space created by the impression of the books' edges as well as the hollow space between them, the wall, and the shelf above. The books were destroyed during the production process,1 however their impressions still allude to the earlier existence of the objects cast, the work consequently functioning as a kind of fleeting memory. Whiteread's selection of this space becomes a catalyst to discussions about the symbolic value of books as a reservoir of knowledge.

Konstanze Klecha
1 Cf. also Barbara Engelbach, Rachel Whiteread. Untitled (Books), 1997. In: Westfälisches Landesmuseum für Kunst und Kulturgeschichte, Münster (publ.), Das Kunstwerk des Monats. Dezember 1998, Münster 1998, 2.
Location
Still existing / Public Collection
Removed
In the museum