Dora Garcia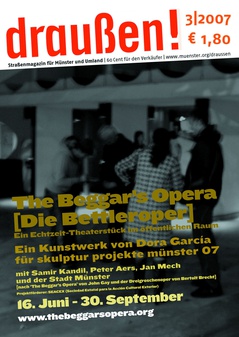 The Beggar's Opera. Ein Echtzeit-Theaterstück im öffentlichen Raum [A real-time opera in public space]
2007
Performance with Samir Kandil, Peter Aers and Jan Mech in the centre of Münster
Additional performances in Metropolis cinema, Berliner Platz 38, respectively from 5–7 p.m.
27.6.2007 (Samir Kandil)
25.7.2007 (Jan Mech)
8.8.2007 (Peter Aers)
22.8.2007 (Samir Kandil)
5.9.2007 (Jan Mech)
26.9.2007 (Peter Aers)
Project website: http://www.thebeggarsopera.org/. Performance for the duration of the exhibition skulptur projekte münster 07
Dora Garcia
* 1965 in Valladolid, Spain
lives and works in Barcelona, Spain
In 2007 the Spanish artist Dora García used the public space in the centre of Münster as a stage for a theatrical performance. The work was based on The Beggar's Opera, a ballad opera by John Gay, made famous in Germany through Bertolt Brecht's adaptation The Threepenny Opera. García reduced the number of cast members to the single figure of Filch, the apprentice beggar in both Gay's and Brecht's politically committed stage works.1 Played in turn by three different actors, while nothing in Filch's appearance identified him as a fictional character, his actions set him apart from local beggars. He didn't ask passersby for money or food but tried to engage them in conversation, offering advice, information and anecdotes. Whoever missed Filch as he wandered the city's streets had a chance to experience him live in one of his performances at Metropolis cinema. On the occasion of The Beggar's Evenings he assumed other roles. On 25 July 2007 Filch performed in Metropolis as Hamlet; barely four weeks later he presented The Beggar's Aria No. 1. On other evenings, he discussed themes with the audience that included the tactile qualities of sculptures and his relationship to Joseph Beuys.2 Filch's experiences could be followed in The Beggar's Diary, an internet blog which was updated and commented on from day to day.3
In his disguise as a beggar, Filch cuts the exemplary figure of a secret agent, a motif employed by García in her work. The artist frequently adopts fictional characters to gather information about events in a city and to embroil passersby in a game in which the boundaries between reality and fiction, art and everyday life become blurred. The partly improvised, partly scripted conversational situations Filch created in the course of Skulptur Projekte are also born witness to by objects shown in a later installation.4
Sarah Kristin Happersberger
1 Cf. Dora García, "The Beggar's Opera", in: Brigitte Franzen, Kasper König and Carina Plath (eds.), sculpture projects muenster 07, exhib. cat. LWL-Landesmuseum für Kunst und Kulturgeschichte, Münster, Cologne, 2007, p. 92–93.
2 Cf. www.thebeggarsopera.org/taxonomy/term/4 (last consulted: 20.2.2016).
3When the performance was completed The Beggar's Diary was published as a book. Cf. www.thebeggarsopera.org/taxonomy/term/5 (as of: 20.2.2016), and: Brigitte Franzen and Dora García (eds.), The Beggar's Opera [Book, Diary, Evenings]: ein Kunstwerk von Dora García für Skulptur-Projekte Münster 07, Cologne, 2008.
4The installation The Beggar's Things was shown from 10 March till 7 April 2012 in the Galerie Michel Rein in Paris.
Location
Still existing / Public Collection
Removed
In the museum