Thomas Struth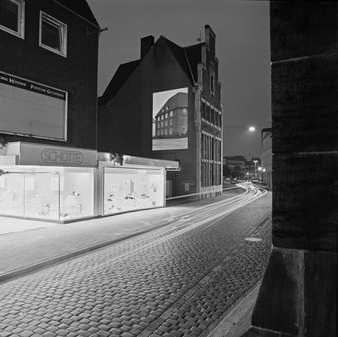 Eine Projektion für Münster [A Projection for Münster]
1987
Slide projections in outdoor public space
Timers, six slide projectors, each with a slide of a different motif
Location
Projection locations:
West-facing wall of the rear annex at Rothenburg 47 / motif: house on Weissenburgstraße, 1987
Photo Porst, Prinzipalmarkt 4 / motif: Im Grünen Grund, 1987
Münster city library in the Krameramtshaus, Alter Steinweg 6/7 / motif: Gartenstraße, 1986
East-facing firewall of the building at Rothenburg 2 / motif: tower block near Aasee, 1987
Klarissenkloster, Domplatz 34 / motif: Wolbecker Straße, 1986
Former headquarters of the Westphalia-Lippe regional authority, Domplatz 1–3 / motif: Lauenburgstraße, 1987
Project on display for the duration of Skulptur Projekte in Münster 1987, daily from 11 pm to 1 am
Thomas Struth
* 1954 in Geldern, Germany
lives and works in Düsseldorf and Berlin, Germany
In a number of places throughout Münster city centre Thomas Struth selected certain exterior walls as projection surfaces for his work Eine Projektion für Münster (A Projection for Münster). At each site he set up a timer-controlled slide projector which for 2.5 hours after dark would uninterruptedly project a single photographic motif onto the building opposite. The slides were black-and-white photographs taken by the artist showing deserted streets and purpose-built residential buildings located mostly on the outskirts of Münster. The same photographs were also on display in the exhibition section of the Landesmuseum. Initially planned were eight projections; just six were carried out.
Struth conceived his work as a walkabout around Münster's historic centre, leading in particular to buildings with light-coloured façades and a certain striking spatial presence as his projection surfaces. The actual architecture and that of the projected buildings entered into dialogue, blending together in the intimate atmosphere of the night to create familiar images of lived urban reality. Based on his choice of buildings Struth combined historic, functional and social references and explored how the self-image of people living in Münster was mirrored in local urban architecture. Struth went on to take photographs of his projections, which are now held by the LWL-Museum für Kunst und Kultur as a permanent loan from the Westfälischer Kunstverein.
Daniel Friedt
Location
Still existing / Public Collection
Removed
In the museum