Peter Fischli / David Weiss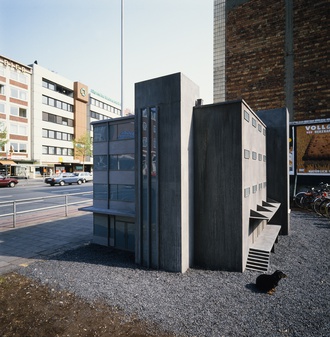 Haus [House]
1987
Outdoor sculpture in wood, plexiglas, painted
350 x 570 x 410 cm, Scale 1:5
Location
Von-Steuben-Straße, on an unbuilt plot of land (now Von-Steuben-Straße 5).
Temporary installation for the duration of Skulptur Projekte in Münster 1987
On the occasion of the retrospective at the Solomon R. Guggenheim Museum, New York Peter Fischli David Weiss: How to Work Better (2016) the artwork was recreated in durable material (aluminium, mineral paint). As of May 2018 the new version of Haus has been permanently installed in front of the cycle-racing track Offene Rennbahn in Zürich-Oerlikon.
Peter Fischli / David Weiss
* 1952 in Zürich, Switzerland
lives and works in Zürich
* 1946 in Zürich, Switzerland
† 2012 in Zürich
On a busy thoroughfare not far from Münster station the Swiss artist duo Peter Fischli and David Weiss constructed a house as their contribution to Skulptur Projekte in Münster 1987. Their built architectural vision fully corresponded with the surrounding buildings and radiated the typical charm of modernist post-war functionalist architecture. With its all-over grey concrete surfaces and painted plexiglas façades this 1:5 miniaturised replica of a four-storey office block perfectly blended in with its surroundings. The reproduction showed a particular type of building in full detail, with commercial premises, offices and main entrance on the street side, and a goods lift and loading bay at the back. The empty site between the former cinema and a snack bar offered a suitably unspectacular location for the project.
The project's form was determined not by the pathos of contemporary free-standing buildings but by the surface appearance of so-called "modern life". As such, Haus as a place of work was representative of our everyday environment. Conceived as a "miniaturised image of middle-class power and display of splendour"1, it also manifested architecture's shift in meaning. Fischli and Weiss were making an ironic reference to the paragon character of Münster in the post-war reconstruction of its historic townscape.
Beate Pittnauer
1 Peter Fischli and David Weiss, "Das Haus", in: Klaus Bußmann and Kasper König (eds.), Skulptur Projekte in Münster 1987, exhib. cat. Westfälisches Landesmuseum für Kunst und Kulturgeschichte, Münster, Cologne, 1987, 88.
Location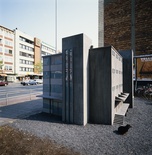 Peter Fischli / David Weiss
Haus [House]
None
Still existing / Public Collection
Removed
In the museum
Other Participation
This artist also participated in: 1997