Shirazeh Houshiary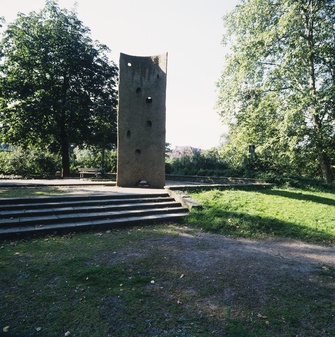 Temple of Dawn
1987
Sculpture
Wood, willow, straw, clay
600 x 200 x 80 cm
Location
Promenade / Schanze am Kanonengraben.
The work was destroyed by a storm in March 1992 and was never reconstructed
Shirazeh Houshiary
* 1955 in Shiraz, Iran
lives and works in London, Great Britain
In 1987 Shirazeh Houshiary built her work Temple of Dawn on a slightly elevated surface in a small park close to Promenade, overlooking Aasee lake. Following a traditional crafts method, a supporting wooden frame was covered with a layer of woven straw and willow and coated with clay. The ensuing wall was curved like a crescent, with its concave side facing south. The solid wall was punctured with seven irregularly spaced, funnel-shaped holes. In addition, there was a pyramid-shaped opening at the base of the sculpture. Depending on the time of day, sunlight entered the structure through the variously angled apertures. Houshiary called her work "a meaningful totem for our age".1 She was alluding to the method of building using organic materials. During the 1980s, in the wake of the energy crisis, the West in particular saw a boom in construction with natural and recyclable materials.
Jenny Katharina Hoedemaker
1 Shirazeh Houshiary, "Projekt; Temple of Dawn", in: Klaus Bußmann and Kasper König (eds.), Skulptur Projekte in Münster 1987, exhib. cat. Westfälisches Landesmuseum für Kunst und Kulturgeschichte, Münster, Cologne, 1987, pp. 137–140 (here: p. 139).
Location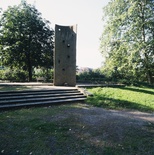 Shirazeh Houshiary
Temple of Dawn
None
Still existing / Public Collection
Removed
In the museum