Katharina Fritsch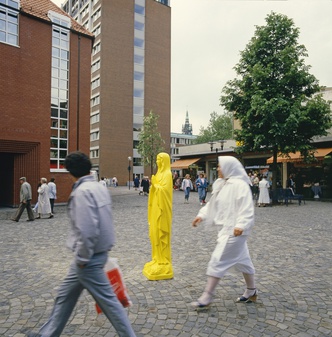 Madonnenfigur
1987
Object in Duroplast, later replaced by a stone cast
170 x 40 x 34 cm
Location
Salzstraße, between Karstadt department store and the Dominican Church. Temporary installation
Owner
Gladstone Collection, New York
Katharina Fritsch
* 1956 in Essen, Germany
lives and works in Düsseldorf, Germany
Katharina Fritsch cast a life-size replica of the effigy of Our Lady of Lourdes in Duroplast resin. The artist coated the figure with luminous yellow enamel and placed it on Salzstraße, a busy shopping street, between Karstadt department store and the Dominican Church.
Perceptions of the sculpture by people in Münster varied wildly, as did their response. Some passers-by saw the figure as a religious motif and laid flowers in its honour. In other people the sculpture provoked reactions coloured by vandalism and destructive anger. Hence, shortly before the exhibition opened, the object was replaced by a stone cast.
After the exhibition Fritsch's Madonnenfigur passed into the ownership of the Ydessa Hendeles Art Foundation in Toronto. Today the work is part of the Gladstone Collection in New York.
Alina Beckmann
Location
Still existing / Public Collection
Removed
In the museum