Keith Haring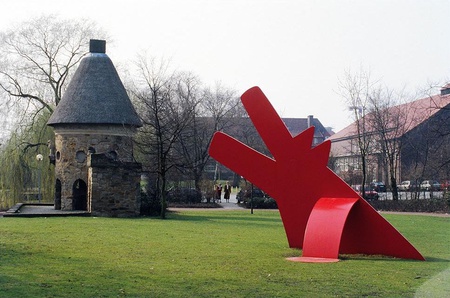 Red Dog for Landois
1987
Sculpture, cast in Corten steel, varnished red, 460 x 620 x 520 cm1
Location
Former Zoo on Himmelreichallee.
Temporary installation for the duration of Skulptur Projekte in Münster 1987; it remained in Münster until 1997, on loan from Galerie Hans Meyer, Düsseldorf
1997–2007 temporary installation on the forecourt of ZKM | Center for Art and Media, Brauerstrasse, Karlsruhe; since 17 May 2007 permanently installed in front of the Kunsthalle Weishaupt on Hans-und-Sophie-Scholl-Platz in Ulm
Owner
Sammlung Siegfried und Jutta Weishaupt
Keith Haring
* 1958 in Reading, Pennsylvania, USA
† 1990 in New York, USA
For the second edition of Skulptur Projekte Keith Haring created a larger-than-life dog cast in Corten steel and varnished red which he placed on the grounds of the former zoo by Himmelreichallee. At its site the sculpture seemed to be re-surfacing from beneath the surrounding lawn like a mole, propping its flat silhouetted body upright on both front paws.
Red Dog for Landois is one of the rare site-specific works by the US American artist. He dedicated it to the activity of the Münster professor of zoology Hermann Landois (1835–1905) who devoted great enthusiasm to the founding of the Westfälischer Zoologischer Garten in Münster, the first ever zoo in Westphalia. It was opened in 1875 and displayed exotic animals in oriental temples and architecturally unusual edifices. But in 1973 the zoo had to make way for the new complex of the Westdeutsche Landesbank, in return for which it was given larger premises somewhat further from the centre on Sentruper Höhe, where Münster's All-Weather Zoo still is located today. Seen against this backdrop Haring's red dog did not only emphasise the lacuna created by the old zoo's disappearance. Rather, the moment of its "resurfacing" on the former grounds of the zoo can also be seen as an act of winning back the site and barking in protest against the newly-built office building. As the artist himself wrote about the project: "I wish to dedicate my sculpture to Hermann Landois and to all of the children who will never have the wonderful experience of visiting the enchanting zoo that used to stand on this site."2
Ronja Primke
1 Dimensions given on the website of the collection of Kunsthallte Weishaupt, the work's current owner: http://kunsthalle-weishaupt.de/sammlung/ (last accessed: 17.05.2017) → Sammlungsschwerpunkte →Skulptur → Keith Haring, "Red Dog for Landois" (1987).
2 Keith Haring, "Project: Red Dog for Landois", in: Klaus Bussmann and Kasper König (eds.), Skulptur Projekte in Münster 1987, exhib. cat. Westfälisches Landesmuseum für Kunst und Kulturgeschichte, Münster, Cologne, 1987, p. 118.
Location
Still existing / Public Collection
Removed
In the museum