Sol LeWitt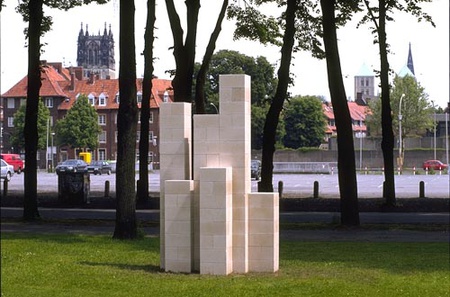 Concrete Blocks / Six Vertical Rows
1997
Six steles built of chalky sandstone blocks
300 x 200 x 120 cm
Location
Schlossplatz (until 2012 Hindenburgplatz), lawn south of the southern gatehouse (AStA).
Temporary installation for the duration of Skulptur. Projekte in Münster 1997
Sol LeWitt
* 1928 in Hartford, Connecticut, USA
† 2007 in New York, USA
As in 1987, for this work Sol LeWitt delivered a project description and entrusted its execution to local craftsmen. "Here is a proposal for Münster. It is made of concrete blocks 20 x 20 x 40 cm (standard measure) consisting of six piles (120, 300, 160, 240, 140, 260 cm). They must be cemented together and it must be level, not painted."1
Aerated concrete blocks first began to appear in Sol LeWitt's work in the mid-1980s. As a material it is cheap and available almost everywhere, as well as being easy to handle, even for unskilled labourers. The material together with LeWitt's reduced formal vocabulary also allowed complex ideas to be brought about in outdoor contexts. Initially, LeWitt intended his brick-built sculptures to be given a coat of paint, which as with his metal sculptures was supposed to shift attention away from the material onto the form. At the close of the 1990s, however, he created a large series of works which were not painted. In contrast to the more extensive of these Irregular Progressions or Irregular Towers, which resemble the skylines of US American cities, his work for Münster was more subtle in appearance.2 Its location on a non-descript patch of lawn makes the sculpture seem quite desultory – maybe a response to the controversy surrounding Black Form in 1987.
Eckhard Kluth
1 Sol LeWitt, "Concrete Blocks / Six Vertical Rows", in: Klaus Bußmann, Kasper König and Florian Matzner (eds.), Skulptur. Projekte in Münster 1997, exhib. cat. Westfälisches Landesmuseum für Kunst und Kulturgeschichte, Münster, Ostfildern-Ruit, 1997, p. 269.
2 Gary Garrels, Sol LeWitt. A Retrospective, exhib. cat. San Francisco Museum of Art, San Francisco, 2000, p. 307.
Location
Still existing / Public Collection
Removed
In the museum
Other Participation
This artist also participated in: 1987