Allen Ruppersberg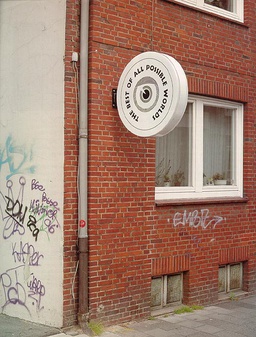 Die beste aller möglichen Welten [The Best of All Possible Worlds]
1997
Installation, performance
Set in a travel agency with the corresponding props, actors in 18th-century costumes, signs with the words "The Best of All Possible Worlds", travel guide
Location
Historical section of the Westfälisches Landesmuseum für Kunst und Kulturgeschichte, Münster
11 different sites in the centre of Münster:
Rothenburg 19
Klemensstraße / corner Stubengasse (façade of Kaufhof department store towards Stubengasse)
Syndikatplatz (formerly "Städterpenne": city grammar and middle schools)
Loerstraße (formerly the Clemenshospital, wing housing the paediatric clinic)
Synagogue in Klosterstraße
Sonnenstraße (outside the main customs office, formerly the Freiherr-vom-Stein-Schule, Lutheran secondary and upper schools for girls)
Mauritzstraße (formerly Mauritzstrasse 1, half-timber house)
Salzstraße (in front of Leffers department store)
Tibusstraße 1
Überwasserkirche (Kirchplatz)
Temporary installation and performance for the duration of Skulptur. Projekte in Münster 1997
Allen Ruppersberg
* 1944 in Cleveland, Ohio, USA
lives and works in New York, USA, and Santa Monica, California, USA
For his contribution to Skulptur. Projekte in Münster 1997 Allen Ruppersberg was inspired by Voltaire's satire Candide.1 Similar to Voltaire's protagonist who sets off from his Westphalian home in search of the best of all possible worlds, Ruppersberg sent visitors to his project on a journey. The tour began in a fictional tourist office in the Westfälisches Landesmuseum für Kunst und Kulturgeschichte and included eleven different locations in the centre of Münster. The tour began with an actor dressed as Candide explaining the history of the city. Then each member of the audience was given a copy of Candide and a city guide so they could explore Münster on their own. Circular signs similar to shop signs announced the title of Ruppersberg's work, marking each stop on the tour itinerary. Abandoning the central authorial voice of the artist, the guide contained texts, photos and illustrations describing the experiences of older citizens. Their reminiscences brought to life personal experiences, historical buildings became settings and public space was supplemented with an emotional and private dimension.
The installations and settings created by the conceptual artist Ruppersberg are frequently based on literary sources but diverge from conventional narrative models, as, for example, in his dissolution of the boundary between reality and fiction. In Münster "the best of all possible worlds" is made available in a variety of ways: in recounted memory, in the visitors' imagination and in the eleven locations along the tour.
Sarah Kristin Happersberger
1 Cf. Allen Ruppersberg, "The Best of All Possible Worlds – A re-enactment of Voltaire's Candide as a new tour of Münster", in: Klaus Bußmann, Kasper König and Florian Matzner (eds.), Skulptur. Projekte in Münster 1997, exhib. cat. Westfälisches Landesmuseum für Kunst und Kulturgeschichte, Münster, Ostfildern-Ruit, 1997, pp. 347–353.
Location
Still existing / Public Collection
Removed
In the museum