Reiner Ruthenbeck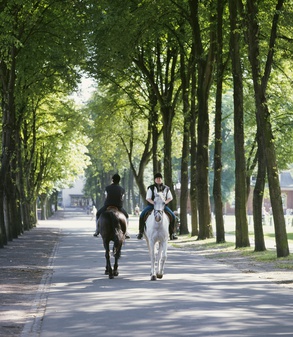 Begegnung Schwarz/Weiss [Encounter Black/White]
1997
Action
A white horse and a black horse with riders
Location
Promenadenring
From 23.08.1997 till 28.09.1997, every Saturday at 11 a.m. and Sunday at 3 p.m., lasting about 3 hours on each occasion.
As part of the sculptural exchange between Marl and Münster the work was reenacted in Marl during Skulptur Projekte 2017.
Reiner Ruthenbeck
* 1937 in Velbert, Germany
† 2016 in Ratingen, Germany
For Skulptur. Projekte in Münster 1997 Reiner Ruthenbeck conceived an action or rather 'kinetic sculpture'. At prescribed times a black and a white horse, each with a rider, circled the approx. 4-km long route of Promenadenring in opposite directions. On each circuit the riders met twice but passed each other at a free walk without exchanging a word.
Begegnung Schwarz/Weiss was the continuation of a series of different actions thematising movement, spatial encounter and intersection that Ruthenbeck began in 1989. The conceptual artist explained that polarity and duality were key motifs in his work: "I try to attain a kind of suspended balance in my art and thus in the consciousness of the viewer."1
Ten years earlier, Ruthenbeck had already formulated an ironic treatment of aspects and clichés of regional identity for his project Lodenfahne (Loden flag), when he transferred the favourite vehicle of Münster inhabitants, the bicycle, from the street into the museum. In 1997, he turned to the horse, the altogether emblematic animal of North Rhine-Westphalia. Through this local cultural reference and the strategic occupation of the most important route around the city centre, Ruthenbeck's work formed associations and ruptures. The artist intensified the polarity by working with opposing directions and the colours black and white.
Daniel Friedt
1 Rainer Ruthenbeck, "Other projects on the theme of POLARITY / ENCOUNTER", in: Klaus Bußmann, Kasper König and Florian Matzner (eds.), Skulptur. Projekte in Münster 1997, exhib. cat. Westfälisches Landesmuseum für Kunst und Kulturgeschichte, Münster, Ostfildern-Ruit, 1997, pp. 355–357; quote: p. 357.
Location
Still existing / Public Collection
Removed
In the museum
Other Participation
This artist also participated in: 1987