Marie-Ange Guilleminot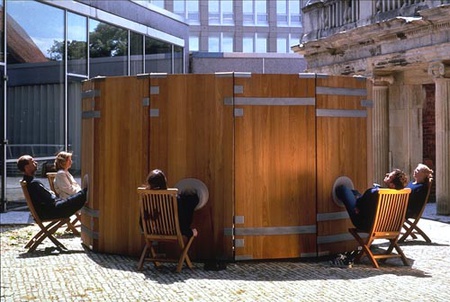 Le Paravent [The Screen]
1997
Participatory installation
Circular wooden screen made of stainless steel, teak and textiles, personnel for massages (six professional reflexologists at any time), visitors
Diameter: 370 cm; height: 210 cm
Location
Courtyard of Theater Münster (Münster City Theatre, at that time still called Städtische Bühnen Münster), Neubrückenstrasse 63.
Temporary installation and operation for the duration of Skulptur. Projekte in Münster 1997
Massage treatment available at the following times (in case of rain Le Paravent is not in operation):
21.6.1997, 4–5 p.m.
22.–29.6.1997, 2–3 p.m. and 6–7 p.m.
30.6–6.7.1997, 6–7 p.m.
(7.–25.7.1997: for viewing only)
26.–27.7.1997, 6–7 p.m.
2.–3.8.1997, 6–7 p.m.
9.–10.8.1997, 6–7 p.m.
16.–17.8.1997, 6–7 p.m.
Owner
Centre d'arts plastiques contemporains de Bordeaux / On permanent loan from the artist
Marie-Ange Guilleminot
* 1960 in Saint-Germain-en-Lays, France
lives and works in Paris, France
Outdoors in the courtyard of Münster city theatre, between the glass façade and the incorporated remains of the historic façade of Romberger Hof, a Baroque aristocratic residence, Marie-Ange Guilleminot erected a twelve-sided circular screen made of teak. Each wall section of the screen had a round aperture that was fitted with a light beige knitted garment shaped like a sleeve. Folding chairs arranged around the screen were an invitation to passers-by to sit down and insert their feet into the structure's interior. Inside, seated on wooden flooring, trained reflexologists were waiting to massage the feet of their unseen vis-à-vis.
Marie-Ange Guilleminot conceived this participatory performance installation with a sense of eager expectation. She described her concept thus: "There are reflex areas in the foot. These areas are like an aircraft's instrument panel, they provide testimony in regard to what's happening inside your body. One can act on the body by acting on the foot. What interests me about the screen is the ability to touch someone in a way that's never been tried."1
Visitors were also able to echo this impulse of curiosity from the outside by spontaneously letting themselves in for unpredictable moments of physical human contact. Since Skulptur. Projekte in Münster 1997 the artist has shown Le Paravent in various locations around the world, while continuing to create new accompanying actions and performances.2
Daniel Friedt
1 Marie-Ange Guilleminot, "Le Paravent (The Screen)". Available online at: www.skulptur-projekte.de/skulptur-projekte-download/muenster/97/guille/index.htm →Konzept (last accessed: 14.06.2017).
2 Institutions to have held exhibitions of her work include: Centre d'arts plastiques contemporains de Bordeaux (CAPC), Bordeaux, 1998; Musée national d'art moderne Centre Georges Pompidou, Paris, 2000; Contemporary Arts Center, Cincinnati, 2005.
Location
Still existing / Public Collection
Removed
In the museum