Hans-Peter Feldmann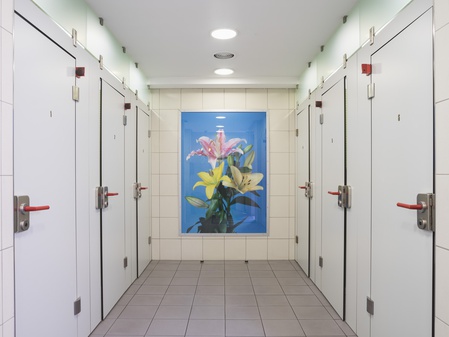 WC-Anlage am Domplatz [WC Facilities on the Cathedral Square]
2007
Installation/Sanitation facility
Location
Domplatz, permanent installation
Owner
City of Münster
Hans-Peter Feldmann
* 1941 in Düsseldorf, Germany
† 2023 in Düsseldorf, Germany
Anyone searching for a restroom on Domplatz will probably steer themselves towards the cylindrical grey cabin opposite the LWL-Museum für Kunst und Kultur's old building. It is a fully automated piece of street furniture, an expression of the privatisation of public services within public space that is contributing to the increasing uniformity of German city centres. However, there is in fact a second public convenience located on Domplatz, originating from the post-war era. Two separate sets of steps lead to the facilities under the square, the left ones to the men's and the right to the women's. Due to the dwindling resources of municipalities, these, if not the complete victims of cuts, generally tend to be sites marked by neglect: smeared mirrors, cracked tiles and a lack of soap and paper typify them. Public often means only the barely adequate in such places.
The toilets under Domplatz however are a pleasant surprise: clean mirror tiling, bright green mosaic partitioning for the cubicles, generous sanitary ware and such decorative elements as large-scale photographic prints of lily blossoms and a colourful plastic chandelier make for a clean-looking and pleasing design. The surfeit of decoration suggests an artistic intervention has played a hand in the aesthetics of the space, and in fact is a contribution by the artist Hans-Peter Feldmann to skulptur projekte münster 07. Carl André's dictum that a society which does not make public toilets available, is one unworthy of public art, being his obvious inspiration.
Feldmann's work was nevertheless faced with the accusation that it "[…] remains more on the level of smart design than of critical commentary."1 In fact Feldmann advanced directly from criticism to subversion: "Hans-Peter Feldmann exploits the possibility afforded by creating art to improve the spatial and aesthetic conditions of a public lavatory […]."2

Stefanie Bringezu
1 Alexander Alberro, By the End of the Path. On "Skulptur Projekte Münster 07". In: Texte zur Kunst, 67, 2007, 177–181, here 180.
2 Brigitte Franzen, Kasper König, and Carina Plath, Using the Example of Münster. In: Brigitte Franzen, Kasper König, and Carina Plath (eds.), skulptur projekte münster 07, exhib. cat.: LWL-Landesmuseum für Kunst und Kulturgeschichte, Münster, Cologne 2007, 11–16, here 15.
Location
Still existing / Public Collection
Removed
In the museum