Isa Genzken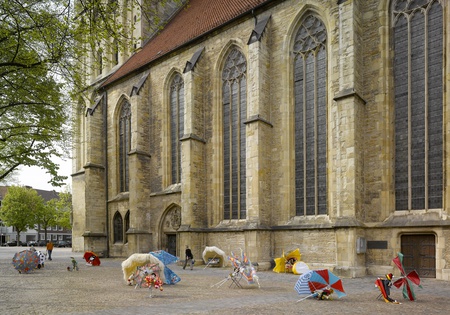 Ohne Titel [Untitled]
2007
Installation
Sculptural ensemble with twelve objects, various materials such as children's dolls, plastic chairs, everyday objects, consumer goods
Dimensions: each object ca. 150 x 200 x 200 cm
Location
Installation along the southern façade of Liebfrauen-Überwasserkirche.
Temporay installtion for the duration of the exhibition
Isa Genzken
* 1948 in Bad Oldesloe, Germany
lives and works in Berlin, Germany
Isa Genzken's works in public space always relate to specific aspects of the site for which they are developed or where they are located. With her sculptural projects the artist reflects spatial contexts, urban planning structures and architectural settings. She frequently focuses on characteristic architectural features or materials as a means of highlighting the particularities of a spatial setting, often with subtle humour.
Following her two previous contributions to Skulptur Projekte, in 2007 Genzken created a sculptural ensemble for the forecourt of Überwasserkirche church. Along the southern façade of the church she installed a series of fragile objects, at first sight reminiscent of children's pastimes and idyllic holidays. But the dolls set on children's chairs beneath parasols highlighted aspects of abuse. Exposed to changing weather and literally cast out into the hard world of reality, the objects were soon transformed into images of the increasing affluent neglect in today's consumer society.
With the sculpture's immediate proximity to the church the project at Überwasserkirche was alluding both to the promise of sanctuary through church asylum and to the tradition of "liturgical drama". Since the late Middle Ages this had expanded beyond its narrow liturgical definition and gradually found expression outside the church in popular forms of mystery playperformances. Thus the various figures of her ensemble are reminiscent of the protagonists in a passion play. The figures' spatial arrangement takes into consideration classical mnemonic techniques. Genzken treated the sculptures as kinds of "imagines agentes" in the sense of a topography of memory.
Beate Pittnauer
Location
Still existing / Public Collection
Removed
In the museum