Mark Wallinger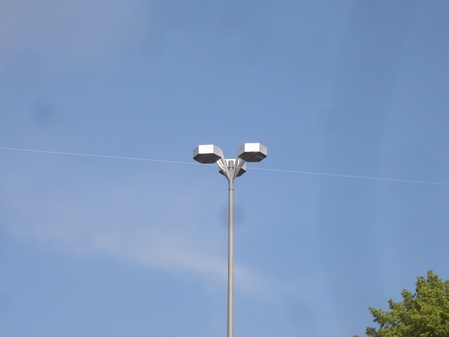 Zone
2007
Dyneema fishing line, plastic and metal clamps
Length: 5 km; height: between 4.50 m und 15 m
Bronze plate
Height: 1,5 cm, diameter: 78 cm
Location
Traffic island on the corner of Aegidiistrasse / Rothenburg and various other places in the city. Temporary installation for the duration of skulptur projekte münster 07
Mark Wallinger
* 1959 in Chigwell, Great Britain
lives and works in London, Great Britain
In Münster, Mark Wallinger delineated a zone whose centre was marked by a bronze disk with the inscription "centre of the ZONE". The bronze plate was placed on a traffic island close to the LWL-Landesmuseum für Kunst und Kulturgeschichte. On a city map he traced a circle around this point with the aid of a coffee cup. He then transferred this zone onto the city itself by means of a 5-km long cord that he stretched at a height of 4.5 metres between buildings and 15 metres above the Aasee. The cord created a partially visible boundary between the space inside and outside the zone. With this, Wallinger was alluding to ways of physically experiencing thresholds: for instance, the Talmud instructs that by communally sharing an "eruv", a bread, one can define an enclosure as a real or symbolic space in which on Sabbath certain prohibitions are set aside. The cord visualised boundaries between communities of different faiths and identities, and with divergent rules.
A further defining aspect of Wallinger's project was prompted by new legislation introduced in Britain in 2006, the Serious Organised Crimes and Police Act.1 This law included a provision banning unauthorised protest within a delineated exclusion zone, public space in which the police were granted clearly extended discretionary powers. In this manner, Wallinger sought to negotiate the various interpretations of defined spaces and the public realm.
Elena Winkler
1 Mark Wallinger, "Zone", in: Brigitte Franzen, Kasper König and Carina Plath (eds.), sculpture projects muenster 07, exhib. cat. LWL-Landesmuseum für Kunst und Kulturgeschichte, Münster, Cologne, 2007, p. 258.
Location
Still existing / Public Collection
Removed
In the museum