Annette Wehrmann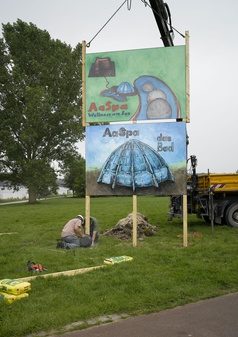 Aaspa – Wellness am Aasee [Aaspa – Rest & Relaxation at Aasee]
2007
Installation / intervention in public space
Two painted metal building site signs, construction machinery, heap of gravel, containers, power distributor, site fence, plastic sheeting
Location
Meadow near Aasee, south of the Freilichtmuseum Mühlenhof.
Temporary installation for the duration of skulptur projekte münster 07
Annette Wehrmann
* 1961 in Hamburg, Germany
† 2010 in Hamburg, Germany
From the 1990s on, artist Annette Wehrmann developed performances, installations, actions and temporary interventions in urban space that focused critically on issues of economics, capital and private ownership. For skulptur projekte münster 07 she blocked off a section of the shore of the Aasee, south of the Freilichtmuseum Mühlenhof, a popular area for walking and cycling. In this place she set up a construction site for the fictional corporation AaFit+Well AG, a venture which was seemingly planning to build the spa hotel Aaspa. The various materials that gradually accumulated on the site, such as a pile of gravel, plastic sheeting to protect the trees, construction machinery and containers, were evidence of the pretended progress of the project's construction.1
Two building site signs painted by the artist illustrated the projected designs of the spa complex, whose architecture resembled a futuristic igloo and was reminiscent of works by Mario Merz. In addition, the sign also showed the Aasee, in which Claes Oldenburg's Giant Pool Balls were depicted as part of the imaginary open-air water park.
The project's design and cordoned-off area fostered debate about the contradictions between publicly accessible space, its privatisation through investors and their promises of wellbeing for the community at large.
Daniel Friedt
1 Cf. Annette Wehrmann, "Aaspa – Wellness am Aasee [Aaspa – Rest & Relaxation at the Lake]", in: Brigitte Franzen, Kasper König and Carina Plath (eds.), sculpture projects muenster 07, exhib. cat. LWL-Landesmuseum für Kunst und Kulturgeschichte, Münster, Cologne, 2007, pp. 282–285.
Location
Still existing / Public Collection
Removed
In the museum