Olaf Metzel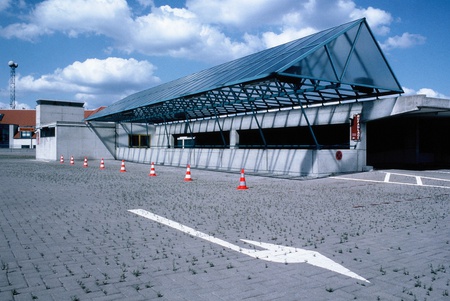 Parkhaus Bremer Platz, Ebene 4 [Bremer Platz Car Park, Level 4]
1997
Sound installation
Sensor-guided Dolby surround sound installation
Location
Multi-storey car park at Bremer Platz, level 4, on parking spaces kept empty in a radius of 20 m.
Installation for the duration of Skulptur. Projekte in Münster 1997.
Olaf Metzel
* 1952 in Berlin, Germany
lives and works in Munich, Germany
In the multi-storey car park at Bremer Platz Olaf Metzel set up a Dolby surround sound installation using audio recordings of professional car crash tests. Visitors could hear the sounds, triggered by a motion sensor, of an accelerating car that within seconds increased in volume and speed and ended in an ear-deafening crash. The shock at first hearing this din was followed by the anxious anticipation of the inevitable each time it was repeated. The seconds seemed to last an eternity and the acoustic set-up created a highly realistic spatial effect.
Metzel has addressed the cult of the car in Germany in several of his works, as well as the burgeoning privatisation of public space and its consequences. On this subject his ideas have proven far-sighted: "Every city has its pedestrian zones; they define the image of the downtown area. Hence the many parking garages for parking as well; how long these spaces will remain public, who they belong to when they are privatised, i.e. roofed over, heated and guarded, or when they will mutate into giant shopping centres, is a question of time."1 The installation was accessible on foot by walking up the stairwell, or by car for a 1 DM charge in addition to the usual fee for parking.
Ferdinand Uptmoor
1 Olaf Metzel, "Free guts", in: Klaus Bußmann, Kasper König and Florian Matzner (eds.), Skulptur. Projekte in Münster 1997, exhib. cat. Westfälisches Landesmuseum für Kunst und Kulturgeschichte, Münster, Ostfildern-Ruit, 1997, p. 281.
Location
Still existing / Public Collection
Removed
In the museum
Other Participation
This artist also participated in: 1987