Thomas Schütte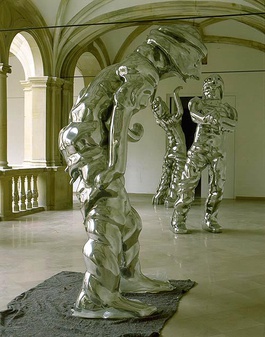 Grosse Geister [Large ghosts]
Münster 1997
Five sculptures in cast aluminium
Height: each ca. 250 cm
Location
Historic section of the Westfälisches Landesmuseum für Kunst und Kulturgeschichte, Münster, southern gallery on the first floor
Thomas Schütte
* 1954 in Oldenburg, Germany
lives and works in Düsseldorf, Germany
When Thomas Schütte was invited for a second time to Münster in 1997 his work Kirschensäule (Cherry Column) from 1987 had yet to lose any of its topicality. Having formulated an ironic commentary on the goings-on on Harsewinkelplatz, an outdoor venue, for this year's contribution Grosse Geister1 he chose the inner courtyard of the historic section of the museum.
The irregular bodies of the five amorphous aluminium figures were reminiscent of melting Michelin Men. Visitors were invited to interact with their bodies, which appeared to have been frozen in mid-movement, and to imitate their poses. The figures' form, material and size in relation to their viewers and setting heightened the sense of monumentality. Their shiny aluminium surface stood in marked contrast to the sandstone-built atrium. At the same time the bodies' reflective surfaces seemed to absorb the surroundings and level these opposites – the ghosts subordinated themselves to the neo-Renaissance architecture of the atrium. This humorous dialectic, on the one hand, of the strength and opulence of the aluminium bodies and, on the other, of their relativised size in the space is characteristic of Grosse Geister and typical of Schütte's approach as a sculptor.2
Elena Winkler
1 This group of works comprises a larger number of figures that were created in various materials in the period between 1995 and 2004.
2 Friedrich Meschede, "Thomas Schütte, or The Power of Cherries", in: Klaus Bußmann, Kasper König and Florian Matzner (eds.), Skulptur. Projekte in Münster 1997, exhib. cat. Westfälisches Landesmuseum für Kunst und Kulturgeschichte, Münster, Ostfildern-Ruit, 1997, p. 381.
Location
Still existing / Public Collection
Removed
In the museum